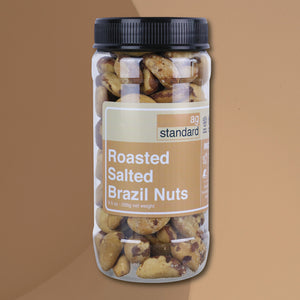 Roasted Salted Brazil Nuts
Regular price
$11.50
$0.00
Unit price
per
ROASTED SALTED and 100% DELICIOUS : These delicious tropical grown Brazil Nuts are perfect if you are looking for a healthy snack with keto friendly healthy fats and many other nutrients designed for optimal health.
SHELLED AND SLOW ROASTED : Gently slow roasted for optimum flavor, you are sure to be satisfied with the quality and will definitely be wanting more soon!
FRESH PACKED : AGStandard Brazil Nuts come packed in 3 individual 9.5 oz jars for optimum freshness. Open one at a time and never allow yourself a stale snack
PERFECT PACKAGING : You will love the portable nature of the AGStandard signature jar. Perfect for any type of cup holder and protects your precious snack in any type of bag while you are on the go.
RECYCLABLE : The packaging is PET 100% recyclable. Do you part in helping the environment by eating products with recyclable and reusable packaging
Welcome! Are you ready?
We are thrilled that you are considering trusting us with your health and well being.
We invite you to look around and, if you have a minute, tell you a story.
Our Story
What do you get when you cross a chef and a nurse practitioner?
An adventure with Pete + Alden.
After meeting at the University of South Carolina in 2003, we have both consistently pursued an amazing variety of different opportunities which have lead us here, to serve you and your family.
From emergency room nurse to backcountry ski patroller, from oncology research manager to fine dining chef, from broad scale cancer clinic health protocols to ecommerce entrepreneur and software engineer. Our combined unique and broad skillset have positioned us well to expertly provide you with the most delicious, health conscious products possible.
The Team
Why We Do It
While AGStandard is a small company that supports the values of our small family, it does quite a bit more than that. AGStandard was started with an intention to support people in their continual pursuit of health, adventure and independence. By making our products continuously, in small rotating batches, we are able to provide a level of quality and freshness not available anywhere else.
Whats the Big Difference
Fresh is our secret ingredient. Fresh tastes the best. Fresh is the healthiest.
When nuts are roasted, controlled heat activates the delicate oils that greatly enhances the natural flavors. 
Much like coffee, once roasted it is best to eat roasted nuts within a couple of weeks to ensure the natural oils stay as delicious (and healthy) as possible.
Each of the creations we make for you is unique. Hand-roasted, custom blended, carefully mixed and hand packaged, we make and ship these to you hoping that you enjoy eating them as much as we enjoyed making them for you.
---
Share this Product
---