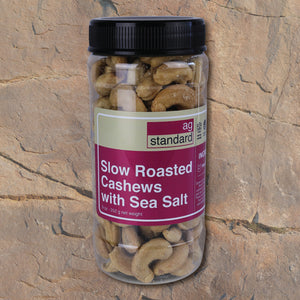 Slow Roasted Cashews with Sea Salt
Regular price
$12.50
$0.00
Unit price
per
JUMBO MEANS EXTRA LARGE: You've probably had the experience of ordering JUMBO cashews only to recieve a smashed bag of broken pieces leaving you disappointed and frankly, pretty angry. We understand that when you order WHOLE LARGE cashews, you expect to have LARGE WHOLE cashews show up. Our Whole Jumbo Raw Unsalted Cashews are W-240 grade meaning there are about 240 cashews per pound and they are sorted to sift out broken pieces leaving only beautiful whole nuts (standard size is 320 per lb).
DRY ROASTED UNSALTED MEANS NO OIL: You are probably eating cashew nuts because you want a heart healthy unsalted snack, right? Cashews ARE the perfect healthy snack, UNTIL they are FRIED in GMO oil. Why alter one of nature's perfect foods when we can gently oven roast to bring out a perfect buttery cashew flavor. We are certain that you'll love these delicious oven roasted extra large cashews.
HEALTHY TREAT: Let's face it. Eating healthy all the time can be tough. Cashews are a healthy addition to any diet providing pure clean energy to keep you satisfied throughout your day. Packed with essential minerals and vitamins, cashews are heart healthy, great for your skin and high in dietary fiber. Believe it or not another amazing benefit of cashews is a powerful antioxidant pigment called Zea Xanthin which is readily absorbed by your retinas promoting strong and healthy eyes.
PERFECT RECYCLABLE PACKAGING : The secret's out, now you don't have to leave home without these. You'll love the convenient portable nature of the AGStandard signature jar. It's perfect for any type of cup holder and holds up great in any type of bag while you are on the go. The packaging is PET 100% recyclable. You can do your part in helping the environment by only eating snacks with recyclable and reusable packaging.
100% PERFECT QUALITY - THE MONEY BACK GUARANTEED YOU WILL NEVER NEED: Your satisfaction is our first priority. Say something happens in transit, or disaster strikes. You can rest assured if there is ever any reason you are not completely happy with your order, we will replace your items AND offer a refund. There will be no hassle, no questions asked. Click 'ADD TO CART' and your order will be on the way.
Welcome! Are you ready?
We are thrilled that you are considering trusting us with your health and well being.
We invite you to look around and, if you have a minute, tell you a story.
Our Story
What do you get when you cross a chef and a nurse practitioner?
An adventure with Pete + Alden.
After meeting at the University of South Carolina in 2003, we have both consistently pursued an amazing variety of different opportunities which have lead us here, to serve you and your family.
From emergency room nurse to backcountry ski patroller, from oncology research manager to fine dining chef, from broad scale cancer clinic health protocols to ecommerce entrepreneur and software engineer. Our combined unique and broad skillset have positioned us well to expertly provide you with the most delicious, health conscious products possible.
The Team
Why We Do It
While AGStandard is a small company that supports the values of our small family, it does quite a bit more than that. AGStandard was started with an intention to support people in their continual pursuit of health, adventure and independence. By making our products continuously, in small rotating batches, we are able to provide a level of quality and freshness not available anywhere else.
Whats the Big Difference
Fresh is our secret ingredient. Fresh tastes the best. Fresh is the healthiest.
When nuts are roasted, controlled heat activates the delicate oils that greatly enhances the natural flavors. 
Much like coffee, once roasted it is best to eat roasted nuts within a couple of weeks to ensure the natural oils stay as delicious (and healthy) as possible.
Each of the creations we make for you is unique. Hand-roasted, custom blended, carefully mixed and hand packaged, we make and ship these to you hoping that you enjoy eating them as much as we enjoyed making them for you.
---
Share this Product
---